This is a special edition of Sign of the Times where we highlight some of the articles Times has been featured in throughout 2021!
SPECIAL ISSUE
January 2022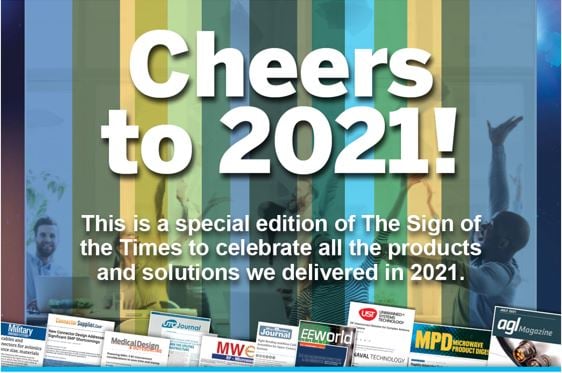 You asked, we delivered.
In case you missed them, here are the most popular articles we wrote in 2021.
Powering MRI's: 3 RF interconnects considerations to Save Time and Money

RF interconnects, including coaxial cables and connectors, are an integral part of MRI systems. Early awareness of challenges such as transmission loss, ease of installation and infrastructure requirements can help with performance and cost optimization in the design of new MRI systems.
How high-frequency interconnections affect microwave ablation systems

Microwave ablation systems provide nonsurgical methods for treating internal cancers and tumors. This application requires the right cable assemblies to achieve optimum performance.
5G Challenges and Solutions

Optimizing RF Interconnects in 5G Space to Ground Networks

As commercial industries increasingly work to advance and expand connectivity with powerful new 5G technology, space-based platforms and satellites will become an even more critical part of the global 5G network.
5G: Redefining the Requirements for Small Cell Coaxial Cables and Connectors

The race is on worldwide to develop and deploy innovative new 5G products that promise to deliver increased peak data speeds, ultra-low latency, enhanced reliability, enormous network capacity, and increased availability. As a result of these requirements, antennas have become increasingly complex. At the same time, there is pressure to minimize the size of these antennas since they are often placed in areas where people will see them, unlike the macro antennas used on traditional cell sites.
Test and Measurement Connections in the World of 5G

Connectors and cabling can be as important as the test instruments used to check out systems operating in the 5G realm. Unlike previous cellular technology generations that were focused on a specific frequency band, 5G deals with a much larger potential frequency range – which introduces new challenges for 5G testing such as repeatability, reliability and reproducibility. As with any RF testing, measurements require unique coaxial cable and connector setups – and it's critical to ensure signal integrity for RF interconnects.
New Connector Design Addresses Significant SMP Shortcomings

The SMP connector came on the scene as a smaller alternative to SMA connectors. Now a new generation of LMP connectors are available for high-reliability, high-vibration, and high-power applications.
Tight Bending mmWave Cable Assemblies for Space-Constrained Systems

InstaBend™ cables are extremely flexible for bending around tight corners, using a new connector design that reduces the required space behind the connector. This helps fit more cables within a small space while maintaining low loss and VSWR.
RF Interconnect Solution for Complex Antenna Installations

Unmanned aerial vehicles (UAVs) require a significant number of electronic components for data recording and transmission purposes, as well as for avionic functions. Of these components, antennas are among the most important, as they allow the vehicle to transmit and receive information from other systems, as well as communicate with those on the ground. Just as critical as antenna performance is its connection to the coaxial cable.
RF cables and connectors for avionics balance size, materials

Radio frequency (RF) technology for avionics applications, both military and commercial, prioritizes weight reduction to increase fuel efficiency while also meeting stringent electrical and mechanical requirements for safety. Low loss, phase stability, and high performance in a shock-and-vibration environment require a balancing act to reduce size with careful evaluation of materials, constructions, and maintenance.
Cables Keep Radar Antennas Tracking

Antennas are vital components in radar systems, both for transmitting and receiving pulsed electromagnetic (EM) waveforms to identify targets of interest. In smaller, lower-power radar systems, antennas often use RF/microwave coaxial cable assemblies to link to other key components, such as data converters, to identify an EM-illuminated target in the field.
Times Microwave LMR®: Simple, Rugged, and Reliable RF Solutions to Power the Utilities Infrastructure

Utilities are critically important infrastructure, and RF is a key component required to support it. The RF systems that power today's utility infrastructure must operate interference-free at all times. However, many are often used in extreme environments and are exposed to harsh conditions—including varying weather conditions, natural disasters, etc.
Cable Assemblies: The Real Cost of Fakes and Clones

Is your RF interconnect system not performing as promised? Then there's a good chance an unscrupulous supplier has hoodwinked you. Inferior products are being sold under false pretenses – claiming to be what they are not, sometimes even using familiar brand names to identify their imposters. LMR® cable, connectors and assemblies are perfect examples.
Designing safety into high-performance, ultra-reliable RF systems for Shipboard Applications

One of the most critical dangers on a ship is fire. In confined spaces, fire quickly fills an area with smoke, which can drastically impede safe evacuation. It becomes difficult for passengers to find exit signs, for example. Added dangers include toxic gases and a lack of replacement air, especially on a submarine. If a fire occurs in this type of confined space, it is crucial that the wiring and cables on board do not give off toxic or optically dense gases. The more cabling required in a confined space, the more important it is to use low smoke/zero halogen cables for passenger safety.